A few years ago now, I was an insane consumerist. I was so much into watching the makeup videos and reading the reviews of new makeup arrivals. And then, purchasing them mindlessly.
I wanted to own the products that other girls had irrespective of their usage. I wished to have, a huge collection of makeup, just like they showed in the videos.
In 2015, I came across Joshua Becker's becomingminimalist.com and since then, my minimalism journey began.
After reading about minimalism, I started becoming aware of the stuff that I owned. When I looked a bit more into it, I realized that I was only using 5-6% of what I owned, on a regular basis. And that, I wasn't fond of wearing foundations, eyeshadows, blushes or the other makeup products.
Even for special occasions, I avoided wearing so many products. Firstly, because of the lack of practice – I was worried about messing up my look the last minute. Secondly, it was time-consuming. And thirdly, I hated the heavy feel of makeup on my face.
It was then, I decided to create a personalized makeup look with the only items that I truly loved wearing and I was comfortable with. Doing this made my life so much easier.
Today I'm Sharing Some Of The Benefits of wearing minimal makeup That I Discovered:-
1.
Getting ready becomes so much easier

:

Especially when you're pressed for time. Whether you're a student, a working woman or a stay at home mom, no one has so much time to layer the products and do the detailing on a busy morning. Instead, all you want is to look polished and put together in no time, which is possible with minimal makeup.
2.
It saves a lot of money:
I save so much money on foundations, concealers, eyeshadow palettes, blushes, highlighters, contouring products, lip glosses, primers. Also, the storage items required to stack them.
Read:  How I Save Money On One Income (With No Kids)
3.
It saves a lot of time

:

It takes a lot of time:

a) perfecting the makeup.

b) learning about the products-reviews and also how to apply them.

c) Shopping – whether online or Stores.

d) Organizing makeup products.

e) Packing for the travels.

I utilize all this time to do some important work rather.

Read:

8 Ways To Enjoy Being A Stay At Home Mom/Wife

11 Inexpensive Ways To Beautify Your Home
4.
It's
easier to pack for the travels
:
Since, I have fewer products that fit into one small bag, packing for the travels becomes easy. I just have to pack a single makeup pouch and I'm done.
5.
It feels so liberating

:

The freedom that comes with minimalism cannot be explained in words. It clears the mental clutter of –
wanting for more than what I already have
wasting energy in deciding what to buy
worrying about whether I made the right decision purchasing the products.
And last but not least the guilt of wasting money whenever I look at the impulse-buy never-used product.
6.
Minimal is Classy

:

I don't think it's practical to wear smokey eyes, highlights, and contours on a day to day basis since it looks dramatic – it might look good in the pictures or videos, but in person, it looks way too much.
7.
Applying too much makeup is harmful to your skin:
It blocks the pores and makes the skin prone to acne and pimples.
Related Topics:
7 Easy Ways To Look Put Together On A Budget
Super Simple Skincare Routine For Busy Women
8.
It makes organizing easier:
Organizing is way easier when you have less stuff. Now, I don't need the makeup organizers, palette holders, brush holders, bins and baskets. All I need is a single makeup pouch.
9. C
reate a capsule look for yourself

:

Yes, you don't have to follow, every step from a standard makeup application process. You can absolutely go ahead and create the look of your own – one that suits your profession and style. And, with the only products and steps that you love.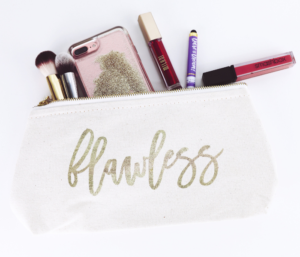 10.
I choose quality over quantity

:

Instead of buying, too many inexpensive makeup items, which will sit in the drawers for years. I consider buying, fewer good quality products, which are forgiving on my skin.

Read More:

8 self-care-tips for comfortable periods

11-Secrets To Creating Blissful 30S Every Woman Should Know
11.
I feel more confident in my own skin

:

I embrace my natural beauty with less makeup. Often, it is about how you carry yourself, and the energy that radiates more than makeup.

If you're confident enough about yourself it'll show in your appearance. And if not, then even a ton of makeup won't help you look good.
12.
I am ahead of time while going out

:

Now, no one has to wait for me while going out. I remember how embarrassing it was to be late every time for any occasion since it took a long while applying elaborate makeup.

Also, applying makeup is so time-consuming that at the end there was no time left to do the nails or apply lotion to hands and feet or dress up properly.
Final Words:
Makeup is just a tool; we should use it to enhance our natural features and not hide our flaws. Everyone has the beauty of their own – so let's stop hiding behind the masks of makeup and love being ourselves – comfortable in our own skin. I want to take this opportunity to thank all the minimalist bloggers for being such a great inspiration. And, for helping me, experience the treasures of minimalism.
Thank you so much for reading. Why do you love wearing minimal makeup?
Pin for later