One of my new year's resolutions has always been looking a little more presentable than being just plain out of bed. But like usual, keeping resolutions is hardest and a way to stick to it is by adding a quick makeup routine to my schedule.
Since many of us are work-at-home and stay-at-home mommies, our health itself is on the back burner, then doing full-on face makeup — you kidding? You ask.
Because honestly, who has time and would intend to cake up like a spectrum only to run errands at the grocery store or for a usual coffee date with your partner?
The idea behind a 3-minute makeup routine using only 3 products — Is that it's something really achievable for an active mama.
Anyone and everyone can undoubtedly squeeze in a 3-minute makeup routine into their day and grip 3 makeup products easily.
The primary reason most homemakers and stay-at-home moms are put down compared to working women is because of their appearance.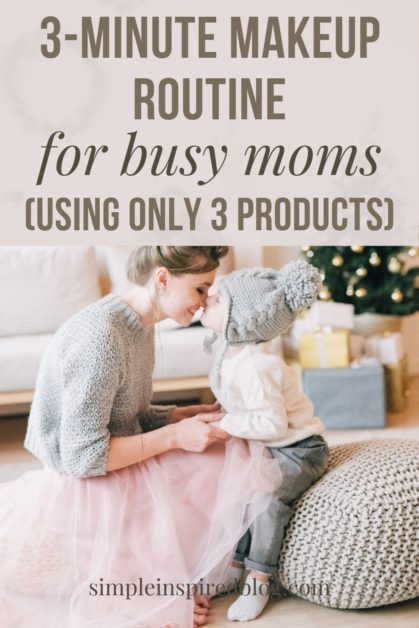 That's the power of dressing up. Others will respect you when you respect yourself — your appearance is a marking of that.
Since the dressing affects your attitude, you're more graceful, positive, and productive when well-dressed.
Having said that, looking all pulled together is only doable when it's quick and easy; when putting on a nice outfit and makeup is just a matter of a few minutes.
Here's how you can create a decent look with the lowest as 3 multi-tasking products.
3-MINUTE MAKEUP ROUTINE FOR BUSY MOMS
Tinted Moisturizer:
Amongst the broad range of face products — liquid foundations, stick foundations, cushion foundations, cream compact foundations, airbrush foundations, bb creams, and cc creams selecting an ideal everyday product for yourself can be challenging.
It may also feel impractical to wear a foundation or even bb/cc cream on an everyday basis being a busy mom.
So what's the best bet?
My suggestion —
A tinted moisturizer!
A tinted moisturizer could be your silver bullet to slightly — cover redness, conceal under-eye dark circles and spots, and even out the skin, giving you a natural-looking radiant complexion.
Most tinted moisturizers come with SPF (sun protection factor). Thus, nailing two birds with one stone — moisturizer plus sunscreen.
A tinted moisturizer can help cut two different routines – skincare and makeup routine into half by combining both skincare (toning & moisturizing) and makeup routine (primer, corrector, concealer, foundation) into ONE STEP.
Unlike foundations and bb/cc creams, tinted moisturizer is forgiving on the skin and is easier to remove.
Tinted moisturizer is the better bet for this sort of short and precise makeup routine since it can be applied by fingers, allowing you to forgo brushes, beauty blenders, or sponges.
A mattifying variant would also let you go without a setting powder. Thereby, proving to be a multi-tasking, time and effort-saving, affordable, and easy-to-use product.
Just take a pea-size amount on the tip of your finger and dot it around the area where you need coverage; blend it well into the skin and you're good to go. It's that easy, mommies.
Brow and lash mascara:
Eye-makeup preference isn't the same for everyone.
Women with thinner eyebrows and lashes require a brow kit/pencil and volumizing mascara for lashes; some want to line their water-line with a flesh-toned pencil to open up the eyes and make yourself appear more awake and fresh; while those blessed with thicker brows or lashes can entirely skip this step. You can pick alternatives as per your requirement.
But a brow and lash mascara is one product that can come in handy for everyone. It's again a super simple-to-use product that can make your brows and lashes look healthy and polished.
Just one coat is enough for thicker brows and lashes beauties and sweethearts with thinner brows and lashes may need another coat.
Related: Why I Love Wearing Minimal Makeup
Lip and Cheek Stain/Tint:
No makeup is complete without a little pop of color.
Whether you're a neutral and muted lipstick lover or a fan of fresh rosy pink and red lips.
A little splash of color on lips and cheeks is going to make you look brighter and attractive and feel great about your appearance.
And a multi-tasker product like lip and cheek stains/tints proves useful in many ways.
 You don't have to worry about harmonizing your blush and lip color. Second, it's easy to apply and the formula is comfortable. Thirdly, it's easy to carry as it can stay even in your wallet.
The application is easier — just take 2-3 drops on the back of your hand and dab it on your cheeks and lips with your fingers.
For better results, apply on cheeks with the help of a beauty blender, and make sure not to wear any setting powder before you apply the cheek stain.
That's all, I think, stay-at-home moms, work-at-home moms, or moms on the go need to quickly pull the look together and feel more confident.
How do you look more gathered, mama? Share your tips in the comments section below. Thank you so much for reading.