Tired of living paycheck to paycheck and sinking in debt? These frugal living tips will help you save money; lower your debt; turn your monetary situation around. And allow you to lead a happy and fulfilling life.
What is frugal living?
Individuals conclude 'frugal living person' as someone buying low-grade goods and living poor.
Frugal people, oftentimes, are classed as cheapskates who deprive themselves of the joy and happiness of the modern world.
But instead, frugal folks are wise with their money. They're the ones who know how to live a content life while living below their means. They know what it feels like to be debt-free and to experience financial freedom.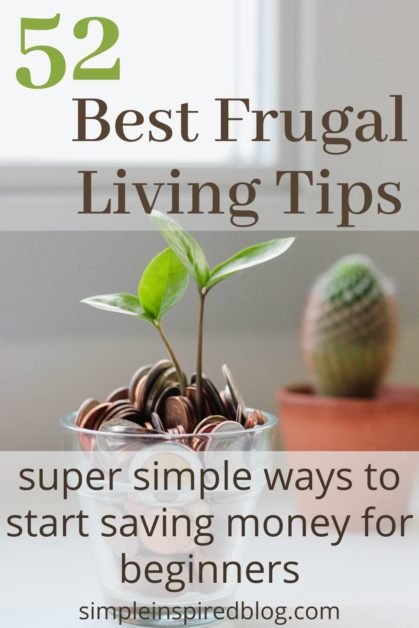 52 BEST FRUGAL LIVING TIPS
1. Plan your meals before grocery shopping.
2. If you haven't already, create and stick to a budget.
3. Bring your lunch and coffee to work; drink your coffee at home and see how much money you save with this simple step.
4. Buy seasonal produce.
5. Buy generic goods — food staples, cleaning supplies, etc.
6. Take inventory and create a grocery list before heading to the store. Stick to the list.
7. Pressure-cooker turns out to be a great energy-efficient pick. It does a wonderful job by cooking food faster and better, therefore, saving on cooking gas. Also, always look for pots and pans with a lid to save gas/energy.
8. Avoid shopping when hungry or depressed.
9. Refrain from weekend shopping or shopping at peak hours on weekdays. I love Monday afternoons for being less crowded and relaxed. People usually complete their grocery shopping on weekends, and until Monday afternoon you get fresh items back in stock again. Well, I prefer to shop for my clothes and other things on Mondays too.
10. After checking out at the grocery store, take a moment to quickly go through your sales receipts. See if the exact numbers of items are printed (check for any misprints). If you're paying cash, count your change, only then head out of the store.
11. Drink water instead of sodas/beverages as a healthy replacement.
12. Opt for raw, unprocessed food substitutes over convenience food. They're healthy and inexpensive.
13. Invite friends in rather than dining out. To make this easier you can arrange the party at your place and tell each one of your friends to bring their specialty food dishes. That way everyone can enjoy a variety of dishes without a single person having to bear all the expenses. You can also rotate to friends' houses to avoid cleaning, decorating, and other miscellaneous expenses.
14. Go on road trips instead of hanging out or partying at a restaurant. Road trips are a super affordable alternative in terms of travel expenses and you can save a lot of money if you take your own food.
15. Reserving air tickets or hotel rooms in advance would cost you excessively low — when traveling internationally or within states.
16. Plan trips during off-season months to get value for money. One, the costs will be lower; second, you'll enjoy great service and attention because of the lesser crowd.
17. Watch out for great travel deals in newspapers or magazines. Pack a bunch of dry snacks to avoid eating excessively at expensive restaurants.
18. Make a wishlist of your wants.
19. Before making any impulse purchase, wait for a day or two or for a week (for better outcomes); take time to decide. If you still need the item, go buy it.
20. Never hesitate to ask the price, compare prices at different places, and NEGOTIATE. Yes, my dear friends, it pays off.
21. Turn off lights, appliances, and water faucets immediately after use.
22. Check for the quality and consider buying used, multi-functional, and remarkably strong furniture and decor items. Learn to DIY and remodel to give it a fresh look.
23. Even the electronics that are a couple years older may cost considerably cheaper than the newly arrived in the market.
24. Regularly oil, service, and clean the cars and home appliances to extend their life.
25. Retain bills, sales receipts, guarantee cards so you can find them conveniently in the event of replacements.
26. Do your market research, learn about the product thoroughly before buying.
27. Paint your own house and learn how to do basic repairs by yourself.
28. Ascertain a color scheme; buy outfits that are versatile and don't hesitate to wear them on various occasions. I personally do this and anyone barely notices.
29. Learn basic mending, stain removing techniques, so you don't discard clothes because of these minor issues.
30. Shop at clearance or factory outlets. you'll be amazed to find great deals at nearly about 30 to 40 percent discounts.
31. Be smart and don't fall into shopping traps while shopping at sales.
32. Paint your nails at home. DIY hair and beauty treatments at home. It is safe for your skin and hair; it is hygienic and economical.
33. If you like to keep up with the latest fashion trends, take a challenge to recreate the looks of your favorite fashion models with budget alternatives.
34. Save a bunch of money by doing your housework and running errands yourself.
35. Automate or pay bills on time to avoid delay penalties. Paying bills on or before time helps your credit score.
36. Buy a home and car that you can afford and are easier to be paid off.
37. Pick a reasonable internet plan for your mobile phone.
38. Take care of your health — eat a healthy and balanced diet; get enough rest; exercise and keep your weight in check, care for your teeth — to stay away from unwanted medical expenses.
39. Look for generic medicines.
40. When your credit/debit cards have no cashback offers that you can avail of, pay cash to avoid unnecessary service charges for using them.
41. Walk or bike whenever you can to save on fuel expenses. Plus, it is great for your health and the environment.
42. Pre-soak clothes ( only if necessary) in hot water for a few hours and then rinse them off with cold water. This will make them equally clean and extend the life of your clothes.
43. Use less amount of cleaners and detergent than recommended on the product packaging.
44. Ditch the dryer and air dry clothes. Use drying racks or clotheslines that can be kept indoors (out of the sun) since sunlight fades clothes sooner.
45. Similarly with the dishes, air dry to save time, energy, and effort.
46. Have a backup plan and prepare ahead for a rainy day.
47. Cancel newspaper and magazine subscriptions and read them online, or swap magazines with friends.
48. Buy secondhand (used) books or get access to a library.
49. Plan at-home date nights with your partner instead of heading out.
50. Cancel cable subscriptions and seek entertainment online. We enjoy real-life vlogs — food diaries, travel vlogs, funny videos, old movies, or short films on YouTube.
51. Wash your own car. You'd clean it better without spending money. And with periodic cleaning, it'll be super quick.
52. Exercise at home, play sport, climb stairs, walk/bike you can incorporate exercise into your daily routine in so many other ways than spending a big amount on a gym membership.
Those were some frugal living tips to get you started as a beginner. No matter where you're in life you can reverse your financial situation with these easy-to-implement tips.
I would love to have your views. Thank you so much for reading.